Prices from
price/person
International flights excluded
---
Request your free quote now!
Receive a free quote from your local travel agency within 48 hours by e-mail.
No obligation to purchase.
trip.me Payment Plus
Credit card or bank transfer payment option
Protection against agency insolvency
Ease of mind
All this for only 2.5% more
See more
Activities & Transport
Wellness
City Tour
Meet the Locals
River Cruise
Boat | Sailing Boat
Car with driver
10-Day Best of Portugal from North to South
Porto and the Douro Valley - Luxury experiences - Lisbon & its outskirts - The beautiful Algarvian Coast
Unique about this tour:
Discover the highlights of Lisbon
Visit the fairytale town of Sintra
Go on a private yacht tour in the Algarve
Discover the enchanting Douro Valley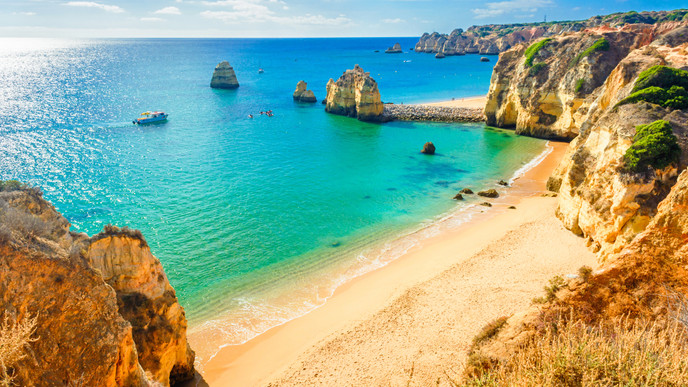 Looking for the perfect 10-day luxury trip to Portugal? Then this 10-day itinerary from North to South is the right choice for you!
During this trip you will get the chance to visit Portugal's main regions - Porto, Lisbon and the Algarve, but also some other towns in between, like the Douro Valley, Sintra, Cascais, and the beautiful Alentejo region.
This is an itinerary that has the right balance between active days full of history, culture, gastronomic experiences, and some free time to relax by the sea...
A great luxury trip for all sorts of travelers, from couples to families!
Services
Included
9 nights accommodations in 5-star luxury hotels
9 x breakfast, 4 x lunch (1 x Wine Estate + 1 x walking foodies' tour + 1 x picnic lunch + 1 x lunch on board a luxury yacht)
Private transportation throughout the itinerary in luxury vehicles, including A/C, Wi-Fi, mineral water and English-speaking driver
Airport transfer on the first and last days
Official English-speaking tour guide on tours - other languages available
Private tours and experiences only - no group tours
Private visit and wine tasting at Port Wine Cellar, with dedicated guide
Visits to national monuments after closing hours
Private visit, wine tasting and lunch at a wine estate in the Douro Valley
2-hour private river cruise onboard a luxury eco-yacht in the Douro Valley
Private Walking Foodies' Tour in Porto with famous food blogger
Picnic lunch in Alentejo
4-hour private cruise along the coast of the Algarve on a private yacht with lunch served on board
Excluded
Optional
(Available upon request)
Private tours of the surroundings of Porto - Braga, Guimarães, Ponte de Lima, Viana do Castelo, etc.
Private tour of towns between Porto and Lisbon - Coimbra, Nazaré, Óbidos, etc.
Private visit of Évora, including local gastronomic experiences
4x4 jeep safaris in the Algarve
Private hikes throughout the itinerary
Example Trip to customize
Welcome to Portugal!
Our driver will be waiting for you at the arrival's hall of Porto Airport, carrying a nameplate with your name, ready to take you on a private transfer to your hotel!
Upon arrival, take the rest of the morning to relax, recovering from your flight and getting ready for this afternoon's activities!
In the afternoon, a tuk-tuk ride is an exciting experience and a fun way to discover the city! Tour the most beautiful and interesting quarters of Porto, while your driver-guide points out the best views and tell you interesting facts about the history of this magical city.
Later on, go on a private visit and wine tasting at Graham's Wine Cellar.
Finally, enjoy a visit of the Stock Exchange Palace after closing hours.
With a mixture of architectural styles, the building presents a splendid example of 18th century style.
Hotels
Hotels
Regua - Pinhão - Vale Do Douro
Discover the Enchanting Douro Valley
Make an early start and go on a private tour of the awe-inspiring Douro Valley.
This morning, our driver will meet you at the lobby of your hotel to take you on a private tour to the Douro Valley.
The Douro Valley is an outstanding wine region, known worldwide for its Port wine production.
Upon arrival you will start by visiting one of its best and most famous wine estates: Quinta Nova de Nossa Senhora do Carmo. This estate is a place of extreme beauty in the heart of the Douro Valley and owned by a local family since 1999.
You'll start by visiting the property, which will be followed by a wine tasting of the best wines produced here.
After this, enjoy a delicious 3-course tasting menu lunch paired with local wines on the property's terrace overlooking the Douro River.
Also, go on a private cruise along the Douro river, allowing you to enjoy the breathtaking views over the surrounding vineyards.
Hotels
Hotels
Take a Half-Day Private Foodie's Tour of Oporto
Visiting Porto, and Baixa in particular, will give you the chance to immerse in its culture, history, and most importantly, its food.
Discover the local markets, the specialty grocery stores, the traditional eateries, and the people who make it all happen.
As award-winning food bloggers, your guides for this activity will let you in on the secrets behind the recipes and products you'll be tasting and observing throughout the tour.
At the same time, they'll help you understand the city as they take you down the backstreets, but also to the main monuments, where they'll give you insights on architecture, history, and of life as a Portuense.
Hotels
Hotels
Transfer to Timeless Lisbon And Discover Its Captivating Highlights
This morning, our driver will be waiting for you at the lobby of your hotel ready to take you on a private transfer to Lisbon!
Upon your arrival in the city you'll have some free time to enjoy a lovely lunch at Bairro do Avillez, one of the best and most picturesque restaurants in the city.
After lunch, your guide will meet you to take you on a private walking tour through the city.
Start at Baixa District, where your hotel is located, which is Lisbon's city center. Then, head to Alfama, one of Lisbon's hills, known for its unique and picturesque vibe. Here, you'll visit the Cathedral of Lisbon, before continuing up the hill towards St. George's Castle, from where you can enjoy one the best views over the city!
After this, the tour will continue towards Chiado, Lisbon's commercial district, with lots of history and stories to tell.
Hotels
Hotels
Visit the Fairytale Town of Sintra
Today you'll discover the fairytale town of Sintra, located outside Lisbon and considered one of the most romantic and mysterious places in Portugal!
Our driver and guide will be at the lobby of your hotel waiting for you.
Head straight to the World Heritage Site of Sintra, where hundreds of years of history and culture await you!
Go for a short walk in the old city center and drive around the mountain past royal palaces, chalets and aristocratic residences.
Lunch will take place at the Café Paris, an exquisite restaurant in the heart of town. Afterwards, it will be time to head to Cascais.Walk around its animated town center and experience cosmopolitan life by the Atlantic.
The return to Lisbon will follow a very special road named "Marginal" by the Portuguese, always running parallel to the white sandy beaches and 17th-century fortresses.
Hotels
Hotels
Go to the Beautiful Algarve
This morning, our driver will be waiting for you at the lobby of your hotel, ready to take you on a private transfer to the beautiful region of the Algarve!
Algarve, or Al-Gharb, has a strong Arabic influence, which gives it a unique vibe, where modern beach resorts coexist with Moorish white-washed villages and the Portuguese culture.
You could take the highway directly to the Algarve, but why not visit the region of Alentejo along the way?
Before arriving at your hotel, you'll have some time to stop by Herdade dos Grous and have a lovely picnic on the vineyards.
After your lovely Portuguese picnic, continue your journey to you accommodation in Albufeira.
Hotels
Hotels
Spend a Day at Your Leisure in the Algarve
Today you'll have a free day to spend at your leisure to enjoy the Algarve at your own pace.
We recommend you enjoy the facilities of your resort and the local beach – to which the resort has direct access!
Hotels
Hotels
Take a Private Yacht Cruise in the Algarve
Today you're going to experience the coast of the Algarve through a different perspective -- onboard a private yacht.
To make this experience even more special, a light buffet lunch with drinks will be served on board!
This cruise offers the perfect escape, with the breathtaking Algarve coastline as your backdrop. You will feel as one with nature in this unique environment, discovering secluded beaches and spectacular cliffs.
Depart from Praia da Rocha Harbor and sail to the Carvoeiro area and the Alfanzina Lighthouse.
If the conditions of the sea allow, visit the sea caves and rock formations in this area.
You'll also have some free time to dive and to do some water sports: water skiing, snorkeling, or boating.
Hotels
Hotels
Enjoy One More Day in the Algarve Beach Paradise
Enjoy another free day at your leisure.
Keep exploring the Algarve at your own pace.
We recommend that you enjoy the facilities of your resort and the local beach – to which the resort has direct access!
Hotels
Hotels