Prices from
price/person
International flights excluded
---
Request your free quote now!
Receive a free quote from your local travel agency within 48 hours by e-mail.
No obligation to purchase.
trip.me Payment Plus
Credit card or bank transfer payment option
Protection against agency insolvency
Ease of mind
All this for only 2.5% more
See more
Pharaonic New Year's | rail & cruise the Nile
Cairo City - Great Pyramids & Sphinx - East & West Bank of Luxor - Aswan & Temple of Philae
Unique about this tour:
Day 2: Fantastic insights into the country's culture and mystique at the Egyptian Museum
Day 3: Feeling the history of great monuments come to life at the dusty quarries of Aswan
Day 4: Learning about ancient Egyptian culture at the well-preserved Horus Temple in Edfu
Day 5: Roam around the great Colossi of Memnon in Luxor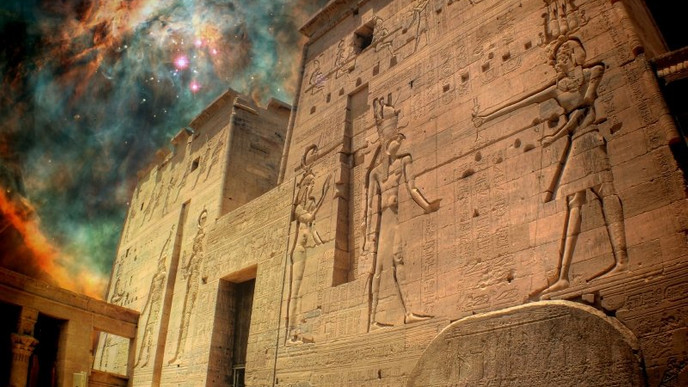 Travel to Egypt for an amazing holiday during New Year 2019. Start your holidays in Egypt with Cairo visiting Giza Pyramids, Sakkara and the Egyptian Museum then heading to Old Coptic & Islamic Cairo, and follow the Nile River down to Asswan & Luxor.
Services
Included
7 nights of accomodation in mentioned hotels, aboard cruise ship and sleeper train (2/3/2)
7x breakfast, 4x lunch, 5x dinner as mentioned in itinerary
Transfer by private air-conditioned vehicles
English speaking tour guide
Entrance fees to all sites and sightseeing tours as indicated in itinerary
Bottled water during the trip
Free WiFi on board of vehicles
Loaned mobile phone for the length of the stay with 30 minutes of local calling
Free Travel insurance
Excluded
International airfare
Entry visa to Egypt
Personal spending
Beverages with meals
Optional tours
Additional entry tickets beyond main entrance
Optional
(Available upon request)
Tour to Alexandria from Cairo by car
Cairo Nile Dinner & Show
Hot Air Ballon Ride at Luxor
Egyptian Heritage Dance Troupe Show
Tour to Pharaonic Village
Excursion to Step Pyramid of King Zoser in Sakkara
Trip to the Camel Market of Birqash
Felucca sailing trips on the Nile
Sound & Light Show
Example Trip to customize
Welcome to the Land of Pharaohs
Egypt awaits you! First stop will be the vibrant metropolis of Cairo, Egypt's capital and a true global hub for you to explore. Upon your arrival at the airport, our friendly representative will welcome you and escort you to the hotel by an exclusive air-conditioned car. Once there, you will review your holiday itinerary over a delicious welcome drink with your tour manager to ensure everything is just the way you want it to be in order to have your perfect Egyptian holiday. Step outside into the charming bustle that is Cairo and explore this mega city on your own or relax in the hotel to prepare for the following exciting days. So much lies right ahead of you on the other end of a peaceful good night's sleep in your comfortable bed here in Cairo.
Hotels
Hotels
The Mystery of the Great Pyramids
Today, you'll get a full taste of Cairo and then some. After a first savory breakfast at the hotel, you will check out and proceed to Giza Plateau. It's time to see something truly miraculous, a real wonder of the world, in ancient times and still today, the Great Pyramids of Cheop, Chefren and Mykerinus. Admire the architectural marvel and feel the history come to live surrounded by these up to over 4.000 years old testimonies to human culture. And don't forget about the mysterious Great Sphinx. Have a tasty lunch over all these breathtaking experiences, before you'll proceed to visit the Egyptian Museum and its many Pharaonic residents, including legendary child king Tutankhamen.
From the ancient Egypt and its deities it is then time to move on to trace some of Christianities' oldest footprints at Coptic Cairo with Ben Ezra Synagogue and famous Hanging Church. Conclude this religious journey withIslamic Cairo with its many historical mosques and sites and Cairo's old (and definitely bustling) bazaar Khan El Khalili. From here, you'll move on to Giza train station to get onboard a charming sleeper train for some well-deserved rest after today's ride through time and religion. Enjoy dinner aboard before falling asleep to the gentle rattling of your ride to Aswan.
Standard Accommodation: Egyptian Railway Sleeper Train
Comfort Accommodation: Egyptian Railway Sleeper Train
Luxury Accommodation: Egyptian Railway Sleeper Train
The Hospitable Aswan
Enjoy breakfast aboard as you arrive in Aswan and move on afterwards to your next moving home for the next few nights, a beautiful Nile River cruise ready to bring you toEgypt's highlights as you enjoy wonderfully scenic views of the Nile. After embarkation and a first delicious lunch aboard it's time to explore Aswan. On the menu today are the impressive High Dam, vital for Egypt's economy, and the Philae temple complex devoted to goddesses Isis and Hathor. Visit afterwards the source for many of Egypt's great ancient monuments, the Aswan stone quarries. Situated here is the largest known ancient obelisk, the ironically enough yet still Unfinished Obelisk. After those interesting, yet probably slightly dusty experiences, you'll be happy to hear today's trip leads you back to your cruise for a refreshing dinner and an afterwards leisurely evening and night on board.
Hotels
Hotels
Gods' Story
It's time to make some progress sailing up that beautiful Nile. Over breakfast your reliable cruise ship will sail youtowards Kom Ombo for your first stop of the day. Here, you learn about the unique design and fascnating history of the double temple of Kom Ombo from the Ptolemaic dynasty. Back on your cruise you can take in the landscape passing by as you're sailing towards Edfu over lunch. Pay the falcon god Horus a visit at the best-preserved cult temple in Egypt, the Edfu Horus templeand discover its historical importance up close. Wet your whistle with some tasty afternoon tea back on your floating home of these days before dinner as you sail towards Esna for the night.
Hotels
Hotels
The Only Woman Ruled Egypt
Anchors aweigh in today's early morning, when your delightful Nile cruise ship will bring you towards Luxor, the city of palaces. This metropolis of ancient Egyptsurely is a who's who of Pharaoic royalty for you to meet upon your visit of the royal cemetery situated on the west bank of Luxor. In the amazing Valley of the Kings 62 Pharaos lay buried in elaborately decorated tombs as it was the principal burial place of major royal figures ofEgypt's New Kingdom for over 500 years. One of those figures was Queen Hatshepsut, whose mortuary templelies close to the Valley. Here you can follow the footprints of this influential ruler of her time in the 15th century BC, considered to be maybe the first known great woman of history. If you aren't too awestruck by now, you may be after the next royal highlight, the two massive testimonial stone statues known as the Colossi of Memnon. After all these awe-inspiring encounters, you will resort back to your beloved cruise to not only digest those memorable impressions but also the quality meals you have come to know and love by now. 
Hotels
Hotels
East and West Banks; the Best Farewell!
One day just wasn't enough to discover all of Luxor's magic, so today you will cross the Nile to explore the east bank of Luxor. But first, enjoy one last breakfast aboard your cruise ship and then say goodbye to your floating home for the past few days, as it is time to disembark. Proceed then to see the Karnak and Luxor temples. Dubbed as maybe the world's greatest open air museumfor the temple complexes' location in the midst of the city, this vast area of temples, obelisks and chapels will throw you right back through time. The rest of today you are free to explore some of Luxor's charm on your own, for example with a sailing trip on the peaceful Nile with a traditional felucca boat to beautiful Banana Island. In the evening it will be time to say your goodbyes to the fascinating city of Luxor and head to the train station. Here you will catch a comfortable sleeper train that will bring you smoothly through the night back to Cairo in private compartements not without providing you a delicious dinner aboard. 
Standard Accommodation: Egyptian Railway Sleeper Train
Comfort Accommodation: Egyptian Railway Sleeper Train
Luxury Accommodation: Egyptian Railway Sleeper Train
City of Cairo
Enjoy breakfast aboard your sleeper train as you roll back into Cairo, for you surely weren't done with this multifaceted city in the beginning of your Egyptian journey. After your transfer to your hotel, all of today is set aside for you to explore this magnificent city in whichever way you like. Your tour manager will have many interesting optional tours for you to choose fromlike a visit to the Step Pyramid of King Zoser in Sakkara and Memphis or a visit to the Camel Market of Birqash around Cairo. Or are you fed up with ancient culture? Dive into the rich and vibrant modern side of this intercultural and interreligious hub that never sleepsand get a different feeling of Cairo all on your own. Just make sure to enjoy one last sumptuous dinner at your hotel, as it is your last night here in captivating Cairo.
Hotels
Hotels
The Last and Not the Least
Today your journey unfortunately must end already. Your voyage to the enchanting Egypt has brought you to manyfascinating sites, gotten you in touch with age-old civilizations, charmed you with fascinating landscapes along the country's Nile lifeline of deserts and banks and showed you the diverse character of its capital and people. Savor one last breakfast and soak up yourEgyptian experience during some free time before you will be transferred to the airport for your departure. However, the charming spell of Egypt might summon you back one day.